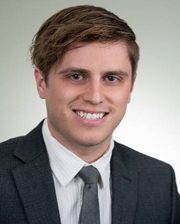 Graduated: Ave Maria School of Law located in Naples, FL (2021)
Admitted: Wisconsin
Member: State Bar of Wisconsin, St. Thomas More Lawyer's Society of Wisconsin and the Milwaukee Insurance Adjusters Association.
Joseph "Joey" Krawczyk
Joey is a 2021 graduate of Ave Maria School of Law located in Naples, FL. He is a graduate of Franciscan University of Steubenville, located in Steubenville, OH, where he double majored in philosophy and theology. Prior to law school, Joey interned with a New York City organization where he developed an audio-visual presentation and helped instruct audiences in the United States and Canada on principles of interreligious dialogue after he completed training in Rome, Italy. While in law school, Joey interned internationally with the Forum of Catholic Inspired Non-Governmental Organizations located in Vatican City. He also interned with the Thomas More Society, a Chicago, IL based national public interest law firm. Joey is now gaining experience in the firm's worker's compensation defense practice area.